HPMC- PVC PIPE EXTRUDER- PVC CONDUIT PIPE PLANT (TWO PIPES)
PVC Conduit Pipe Plant for two pipes also known as Conical Twin Screw Extruder (Two Pipes) is extrusion machinery that is made from high grade steel and is energy efficient for producing twin pipe of two different diameters at the same time from a single mould. With high production capacity of (125 kg/hr-150kg/hr) even for smaller pipes HPMC-PVC Conduit Pipe Plant comes in as model number HPMC 51/105.
---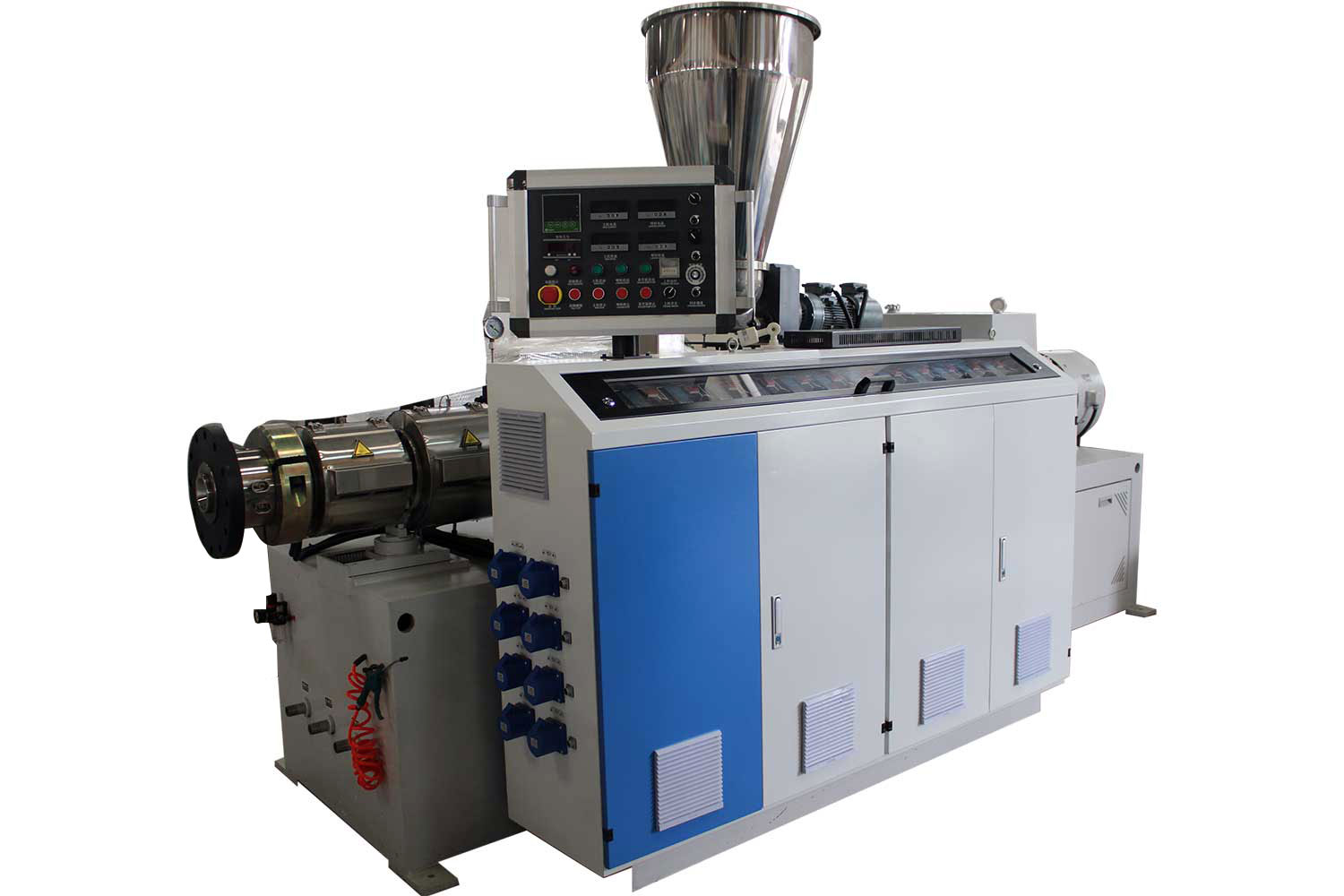 Product Description:
Conical Twin Screw Extruder (Two Pipes) or PVC Conduit Pipe Plant available in HPMC 51/105 model is extensively employed in fabricating rigid and plasticized PVC dry bends. It is technology enabled for producing a large number of small and big pipes within a very short period of time.
Salient Features of PVC Conduit Pipe Plant (Two Pipes)
Conical Twin Screw Extruder for Dual Conduit pipe is designed and is ideally suited for electrical piping systems and underground duct.
It can manufacture twin pipe in two different diameters form a single mould.
With efficiency of (125kg/hr-150Kg/hr) it produces even larger number of pipes even for smaller sizes.
This special conical twin screw extruder can take high filler loading in comparison to parallel twin screw extruder.
Counter rotating conical twin screw machines on CNC "WWW" make thread milling machines by simulation software for better performance.
Bi-metallic screw & barrel as a part of Conical Twin Screw Extruder provides two-three times more lifespan in comparison to nitrided screw & barrel.
Sections of Conical Twin Screw Extruder (Two Pipes)
1. Dual Pipe Die Head
Die head for smaller sizes of pipe ranges from 16mm-50mm along with stainless steel spider
It provides surety of production of dual pipe from single mould ensuring cost of production to be low.
It is provided with flow channel design and special treatment on the surface
Special flow channel provides the equal distribution of PVC in both moulds
Even temperature and pressure remain even
2. Dual Pipe Vacuum Tank
Dual Pipe Vacuum Tank ensures continuity of the production of one pipe in case production of other pipe is stopped minimizing the wastage. It is formed of stainless steel.
Availability of vacuum pump and water pump for two different vacuum chambers
3. Dual Pipe Take Up / Haul Off
Its manufacturing ensures the traction of two different speeds thus enabling the production of pipes of varying diameters.
Drive is provided through four geared motors to all four belts and synchronized with the assistance of AC frequency variable drive
Space left between two tracks is adjusted by pneumatic cylinders.
Functioning is ' PLC Controlled '.

Dual Pipe Cutting Unit

Its manufacturing ensures the cutting of two pipes at varying lengths and at different time
Length of the pipe can be fixed with limit switch of the tipping chute
"PLC Controlled" Functioning
High speed blade for smooth cut
4. Dual Pipe Tipping Unit
Facilitated with two individual unloading tables stacking both pipes stacked at different locations.
MACHINE MODELS
HPMC 55/110
HPMC 65/132
 
 
 
  Min Pipe OD ( mm)
  16
  16
  Max Pipe OD (mm)
  50
  50
  Max Plasticizing Capacity (Kg/hr)
  190
  300
  Max Output (Kg/hr)
  170
  250
  Main Drive (Kw)
  22
  37
 
  Heating
 
 
  Barrel ( Kw)
  18
  20
  Die ( Kw)
  5
  8
  Screw Speed Variation (RPM)
  1 - 37
  1 - 37
 
 
 
  Vaccum Sizing Tank
 
 
  Pump Drive ( KW)
  2.25
-
  Length ( Mtrs)
  1.0
-
  Water Requirement Circulating ( Ltrs/min)
  400
-
 
  Spray Bath
 
 
  Lengh (mtrs)
  5
  6
  Water Requirement Circulating(   Ltrs/Min)
-
-
  Drive Range (kw)
  4
  4
 
  Haul Off
 
 
  No. of Arms
  2
 2
  Width of Belt (inch)
  6
  6
 
  Cutting Saw
 
 
  Saw Diameter ( mm)
  500
  500
  Saw Drive Load ( KW)
  1.5
  1.5
We manufacture and export plastic processing machinery like Plastic Extruder, Twin Screw Extruder, PVC Pipe Plant, Pipe Extruder, HDPE Pipe Plant, Recycling Machine, Plastic Reprocessing Plants, Co-Rotating Extruders, Drip Irrigation, Compounding Extruder, Pipe Machinery, PVC Casing Caping Machinery, Plastic Profile Machinery, LLDPE Pipe Plant and all kinds of Extrusion Machinery and Plastic Machinery.