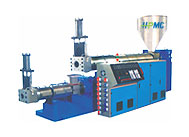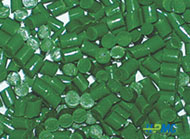 Product Code : HPMC-SSE-04
Product Description:
EXTRUDER FOR RECYCLING HIPS / CRYSTAL / HIPS / PP / LD / HD / ABS & ALL KINDS OF ENGINEERING PLASTICS
With many years of design, manufacturing experience and adopting international advanced technology, our company has developed different series of extruder on base of accepting the users, suggestion. the special high-efficiency venting screws of different structures (such as separate type, mixing head, barrier type, distribution type, and other combinations) are selected for this series of machine, which has excellent venting performance, good plasticization. It is suitable for PP, PE, HIPS, PS, ABS, PMMA, PA, and other engineering plastic.It is especially suitable for precessing the reclaimed material so as to reduce the cost of product greatly.
We manufacture and export plastic processing machinery like Plastic Extruder, Twin Screw Extruder, PVC Pipe Plant, Pipe Extruder, HDPE Pipe Plant, Recycling machine, Plastic Reprocessing Plant, Co-Rotating Extruder, Drip Irrigation, Compounding Extruder, Pipe Machinery, PVC Casing Caping Machinery, Plastic Profile Machinery, LLDPE Pipe Plant and all kinds of Extrusion Machinery and Plastic Machinery.
---
SCREW DESIGN

DUAL DIAMETER (145 mm-110 mm) design with a large diameter feed transitioning down to the smaller diameter main processing section. The flights are hard surfaced with Gas Nitriding with hardness from 65 HRC -68 HRC.
Technical Specifications
| | | | | | | | | |
| --- | --- | --- | --- | --- | --- | --- | --- | --- |
| MODEL | PRODUCTION (KG/HR) | DIAMETER OF SCREW (MM) | MAIN MOTOR (HP) | HEATING LOAD (KW) | HYDRAULIC SCREEN CHANGER (INCH/HP) | LD/RATIO | HEATING ZONE | ROTATING SPEED |
|   |   |   |   |   |   |   |   |   |
| EXTRUSION 90 | 80-100 | 90 | 30 | 15 | 7/3 | 33/1 | 6 | 50-70 |
| EXTRUSION 100 | 140-160 | 100 | 40 | 18 | 8/3 | 33/1 | 7 | 50-70 |
| EXTRUSION 110 | 150-175 | 110 | 50 | 22 | 9/3 | 33/1 | 8 | 50-70 |
| EXTRUSION 120 | 200-220 | 120 | 75 | 28 | 10/5 | 33/1 | 9 | 50-70 |